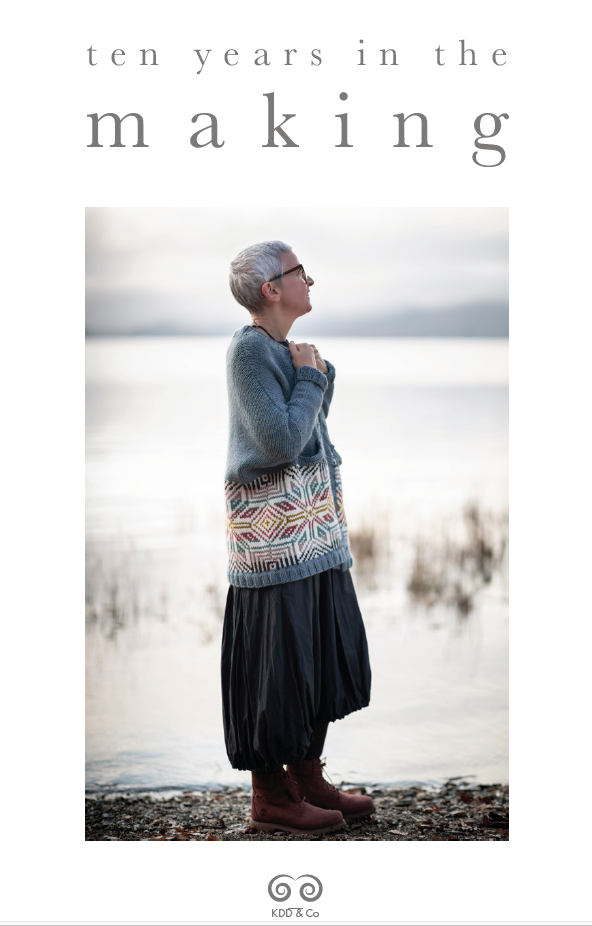 roll over the image to zoom in
You will earn

0

reward points with this purchase
Product tabs
10 Years in the Making

"Time, for a hand knitter, accrues, attenuates, shifts gradually, moving on in its own folds and gathers rather than straight lines."

Kate Davies thoughtfully reflects on a decade in design in her anniversary collection of eighteen beautiful patterns. Mixing innovative brand-new work like Sterntaucher and Fleckit with classic re-releases such as Carbeth and Paper Dolls, all patterns are written in Kate's signature clear style across an inclusive size range. There are twelve different pullovers and cardigans to choose from, including simple-to-knit styles such as the Evendoon pullover and cardigan alongside the enjoyable cable challenges posed by Wryit or Tree Tram Tro. Yet Kate's hallmark is perhaps her work with colour, and this collection abounds with bold designs of many hues, including yoke sweaters, a cosy hoody, mitts, cowl, hats and slippers, and the graphic Sterrie blanket with its simple, contemporary feel.
*18 patterns
*4 classic re-releases (Owls, Paper Dolls, Carbeth and Carbeth Cardigan)
*14 brand new designs
*inclusive size range
124pp. Published in Glasgow.

After purchase, you will receive an email with a direct download link (to enable you to access your complementary e-version straight away) and unique download code (to allow you to access it via Ravelry, if you wish). We recommend that you download your item as soon as your message arrives as the link may expire after a few days. Follow the directions to pop the the book into your Ravelry library. If you've not received your download instructions within 24 hours of placing your order, please first check any spam / social / promotions folders that may be set up on your account, then email us at info@katedaviesdesigns.com.